Ultrasonic Stop Dog Barking Device
Effectively train your dogs to stop barking, digging, chewing and more. With our Ultrasonic Stop Dog Barking Device, prevent your dog from annoying neighbors and friends.
It emits a high-pitched tone that dogs can hear but that is not audible to human ears, allowing you to train your dog anywhere. It is also useful for defending yourself from aggressive dogs while you're outside, running or bicycling. 
Its super bright, built-in flashlight catches your dog's attention while training or ward off attacking dogs. If you want to train your dog safely and effectively, get our Ultrasonic Stop Dog Barking Device!
Effective Trainer: Train your dog through reinforcement learning with our Ultrasonic Stop Dog Barking Device. In a short time, your dog stops barking after realizing that it triggers an ultrasonic sound. The training process is painless and fast!
Safe For Dogs: Leverages harmless methods to stimulate dogs. Avoid using shock collars that can potentially cause damage or pain to your loving dog.
Ultrasonic Transmitters: It can generate 125dB of ultrasonic sounds which can reach up to 20 meters for training or self-defense from aggressive dogs whose barking can be annoying too. Send the ultrasound to approaching dogs before they become aggressive, protecting yourself from dangerous dogs while walking, jogging or bicycling.
Flashlight: It comes with a bright LED flashlight which can also be used to ward off attacking dogs. It can also function as a normal flashlight which you can use at night.
Highly Portable: Small and handy, it fits in your pocked and can be brought with you anywhere.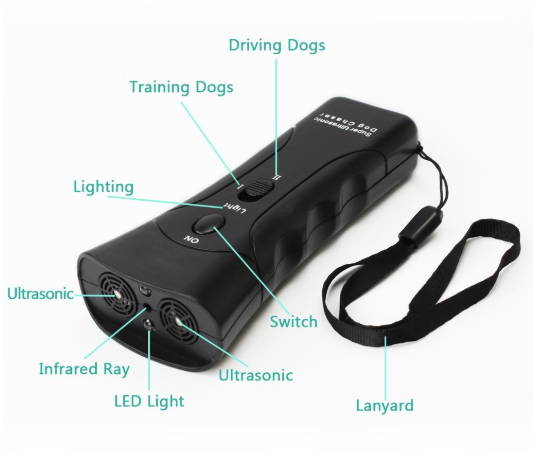 Click ADD TO CART to Order Yours Now!
Satisfaction Guaranteed With Every Order. All prices are listed in USD.
100% SATISFACTION GUARANTEE
1. No Risk, 30-Day Money Back Guarantee.
2. 100% Quality Inspection On Every Order.
3. Safe Payments via Credit/Debit Card, PayPal, and Express Checkout Methods.
4. End to End Tracking On Every Order.
It works! My dogs behave well..
All OK. It was delivered very quickly.
We have received the product and it was well packed and in good quality. Thank You!