Wireless Invisible Dog Fence
Keep your dog from wandering far and keep it safe with our Wireless Invisible Dog Fence. Our collars make training extremely easy and automated, and ensure that your dog becomes highly trained.
Smart Trainer System: When your dog gets out of range, the collar will vibrate to signal that it has left the safe area. If your dog stays outside the boundary, then it will release an electric shock. Your dog will easily learn to stay within your desired area.
Safe Training: Our invisible fence system delivers mild, gentle and completely adjustable static currents. Featuring 5 adjustable levels, you can rapidly train your dog while keeping it comfortable and safe. Your dog will not be hurt. The collars also have reflective, fluorescent TPU material to protect your dog against moving vehicles at night.
Fast Automated Training: Train your dog within 2 weeks effortlessly. Gradually increasing intensity, from beep to vibration to mild static, even stubborn dogs will learn quickly. The wireless collars deliver static through two contact points located on your dog's neck.
Adjustable Sizing: Our wireless training collars are highly adjustable and fit most dogs. This also helps keep your dog comfortable at all times.
High Range: Our invisible fence has a range of up to 300 meters! There are 5 range setting available - 30m, 60m, 90m, 150m, 300m.
Waterproof: The collars operate effectively in rainy conditions and rough weather.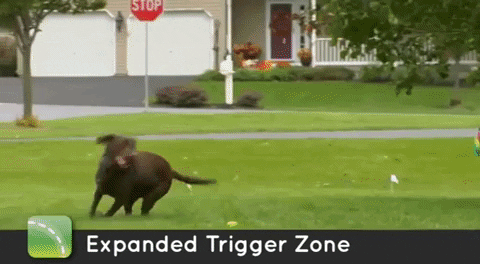 HOW TO USE THE TRAINER SYSTEM
3 dogs can be simultaneously controlled. The digital controller assigns a number label to each dog collar and functions accordingly.
Press the mode button you want to switch to it. Modes: beep, vibration, electric static.
You can assign an intensity level for each mode. Control the intensity with "+" and "-" buttons. Each mode has 6 levels!
HOW TO USE THE COLLAR RECEIVERS
Turn on the receiver by pressing the power button. If the light is on, then the receiver is ready to be used.
When it's charging a red light will flash. At full charge, the light will turn green.
The LED light displays electrostatic intensity - the brighter the light, the higher the intensity.
SPECS
Transmitter: 3.7V 2500mAh LiP rechargeable battery

Receiver: 3.7V 400 mAh LiP rechargeable battery
We have 24/7/365 Ticket and Email Support. Please contact us if you need assistance.
Click ADD TO CART to Order Yours Now!
Satisfaction Guaranteed With Every Order. All prices are listed in USD.
100% SATISFACTION GUARANTEE
1. No Risk, 30-Day Money Back Guarantee.
2. 100% Quality Inspection On Every Order.
3. Safe Payments via Credit/Debit Card, PayPal, and Express Checkout Methods.
4. End to End Tracking On Every Order.
Great training tool! I just bought my puppy this year and it has made the training phase so much easier, thanks!
My puppy already learned to stay close to me! Highly recommend it!
The 3 modes make it very adjustable and the shock static is not harmful at all, but significant enough to get the job done! Love it
So easy to use, didn't have to move a finger and my dog already knows to not go too far :)
gifted it to my friend and her dog already knows where it can go, 100% recommend